Sotiris Karagiorgis
Senior Systems Engineer, MCT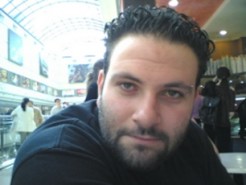 Sotiris Karagiorgis
Senior Systems Engineer, MCT
Hello there! I'm Sotiris Karagiorgis, a Senior Systems Engineer and a Microsoft Certified Trainer. I am highly motivated and passionate about technology, web development, Windows & Linux operating systems, open source, programming and security/privacy. I like to get involved with interesting projects that will help me put my skills to use, but at the same time will be challenging and make me learn something new. I live in Limassol, Cyprus. You can find a lot of information about me here. Feel free to contact me. I will be happy to hear from you.
Skills and Abilities

Download a pdf version of my resume here.

Certifications

ISACA Cobit ® 5 Foundation: Governance & Management of Enterprise IT.

MCP - Microsoft Certified Professional.

MCSA - Microsoft Certified Solutions Associate: Windows Server 2012.

MCSA - Microsoft Certified Solutions Associate: Office 365.

MCSE - Microsoft Certified Solutions Expert: Cloud Platform and Infrastructure.

MCSE - Microsoft Certified Solutions Expert: Private Cloud.

MCSE - Microsoft Certified Solutions Expert: Server Infrastructure.

VMSP - Veeam Management Pack v8 for System Center.

VMSP - Veeam Availability Suite v9.5.

VMTSP - Veeam Management Pack v8 for System Center.

VMTSP - Veeam Availability Suite v9.5.

MCT - Microsoft Certified Trainer.

Linux and Windows

- System Administration of Windows and Linux systems.
- Hyper-V.
- Vmware ESXi.

Server Services

- File Server, Email Server, Web Server, Proxy Server, VPN, Firewall in Windows and Linux.
- Domain Controller, Active Directory, Certificate Services, Federation Services, DNS, DHCP, WSFC, IIS, Group Policy, WSUS, Remote Desktop Services, Exchange.




Cloud Services

Microsoft Azure, Office 365.




Networking

Basic Mikrotik Configuration.

Programming languages

C, Python, Ruby.

Front-End Web Development

HTML, CSS, JavaScript, jQuery. Twitter Bootstrap, HTML5 Boilerplate & Foundation frameworks. Google Web Starter Kit. SEO and Analytics.
- Responsive Web Design.
- Mobile Web Development.

Back-End Web Development

PHP/MySQL, Python, Ruby On Rails, API Integration.

Databases

MySQL, PostgreSQL, SQLite.

Content Management Systems (CMS)

WordPress, Joomla!, Drupal, vBulletin, phpBB.

Distributed Version Control Systems

Git, Github, Gitlab, Bitbucket.

Specialized Software

- Microsoft Dynamics CRM.
- Manage Engine ServiceDesk Plus.
- Veeam Backup and Replication.
- Kaspersky Security Console.

I am a very motivated person and passionate about what I do, and what I like. I am focused on my goals and always trying to acquire new knowledge. I can be a great asset to any team or organization.

- Leadership skills, team spirit, initiative and able to operate under pressure.
- Organizational skills, based on prioritizing and balancing the workload.
- Excellent reasearch abilities. Quick learner.
- Use existing knowledge to acquire new skills and reinforce existing abilities.
- Able to solve problems, find optimal alternative solutions, focusing on detail where and if needed.


Organizations

Member of ISACA Association.
Work Experience
Senior Systems Engineer

2016-Today

I work as a Senior Systems Engineer at CloudLayer8 LTD (cl8.com).

IT Administrator

2015-2016

I worked as an IT Administrator at Pine Management LTD.

Web Developer / Designer

2013-2016

I worked as a freelance web developer.

S. K. OrangeNote

2008-2015

Computer sales and repairs. Accessories, Network services, IT solutions.

Cyprus National Guard

2002-2004

I did my military service in Cyprus for 2 years.
Education
Electrical Engineer and Computer Engineer

2004 -Today

Democritus University of Thrace, School of Engineering, Department of Electrical Engineering & Computer Engineering, Greece.

Related courses:
Introduction to Computer Science, Programming for the web, Computer Networks, Operating Systems, Microprocessors, Databases, Operating Systems Security, Computer Programming in C.

Thesis:
Linux daemon to monitor and analyse network connections for traffic monitoring and security. Daemon written in C. Web interface written in php, html and css. Source code on github .

Laniteio Lyceum A', Limassol, Cyprus

1999-2002

Focused on Physics, Mathematics and Chemistry. GPA 17.8 out of 20.

GCE O' LEVEL in English Language, Grade : B

1998-2000

I have a full professional proficiency in English.
Contact me
All fields are required. Your Public IP address appears to be: 3.226.251.81